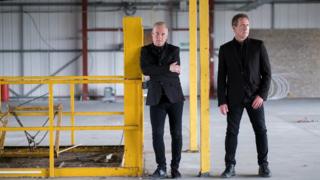 Nearly 40 years ago, Orchestral Manoeuvres in the Dark started out as an attempt to capture the sound of the future.
As the rest of the UK moshed to punk and danced to Boney M, Andy McCluskey and Paul Humphreys were pulling components out of old radios to assure what kind of sounds they could make in their parents' back rooms.
By 1980, Smash hit was calling them "the acceptable face of synthesizers"; a British variant on Kraftwerk's cerebral machine music.
"We were fascinated by weird German music and writing sungs about petroleum refineries, " laughs McCluskey, "so nobody was more surprised than us that we got asked to make records, and then that we sold millions of records".
Thanks to songs like Enola Gay, Souvenir and Joan Of Arc, they clocked up six top 10 albums and made 29 appearances on Top of the Pops. For McCluskey, the boredom of taping the Tv demonstrate was alleviated by the chance encounters he'd make at BBC Television Centre.
"The studios all had the same little cafe, so if you were fortunate, you'd end up having a cup of tea with some cybermen."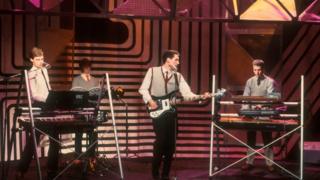 But given the band's enthusiasm for all things hi-tech and sci-fi( McCluskey's pre-fame band was even called Dalek, I Love You ), they've always been suspicious of our automated overlords, and it's a theme that persists on their latest album, The Penalty of Luxury.
The title track is a scathing indictment of customer culture; while Precision and Decay comments on the mechanisation of the manufacturing industry, and how factory closures can decimate communities.
Those motifs are common to several of 2017's biggest albums, including Arcade Fire's Everything Now and Gorillaz' Humanz – and McCluskey says they should be obvious to anyone who's get "their brain switched on".
"For the most part, people are better off than we've ever been before and yet we find ourselves more stressed, anxious and unhappy – so why is that? " he asks.
"In generations gone by, 'living in the now' was a simple suit of constantly working for 24 hours a day to put food on the table and keep the roof over your head; while keeping your thumbs crossed that there wasn't going to be war and pestilence.
"Now you don't have to work that hard for your food and your house, so you've get time for your brain to start worrying.
"As many counsellors and psychotherapists have pointed out, the most fearful place to be is in your own head. It's not good."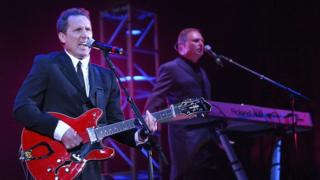 His anxiety is most apparent on La Mitrailleuse – a stark, foreboding composition where McCluskey intones the phrase "bend your body to the will of the machine" over a rhythm track constructed from machine gun fire.
It was inspired by a trip-up to the Imperial War Museum, where the musician came across a paint – also called La Mitrailleuse – by Christopher Nevinson.
Dating from 1915, it presents a group of machine-gunners huddling in a trench, little more than extensions of the weapons they were holding.
Nevinson had painted it while on honeymoon leave from his task as an ambulance driver on the Western Front and, at the time, it was hugely controversial. Critics, including the army, said he had devalued soldiers' contribution to the war effort.
"Nowadays, of course, everybody takes the mechanised Army for granted, " Nevinson subsequently recalled, "but in those early days I got into hot water simply because I was the first to paint it."
McCluskey, who was intending to study fine art before OMD took off, was fascinated by the painting.
"It actually described how the First World War was the first mechanised war, where it wasn't merely hand-to-hand combat, it was industrialised slaughter, " he says.
"And written next to it, in the blurb on the wall. it had this phrase: 'Bodies bent to the will of the machine' and I merely believed, 'I'm having that! SSSS
"But of course there's a broader context now, which is with the increased sophistication of computers, robotics and their algorithms, we are now at the dawn of huge sections of humanity being built redundant by computers and machines who can do their jobs better than they can."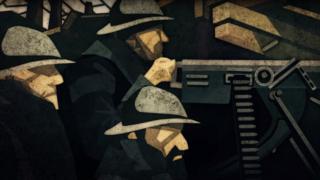 For now, McCluskey isn't facing computer-based obsolescence. Punishment of Luxury's high-voltage hum was written and composed by humen – although, the musician admits, he's stopped utilizing synthesizers, and records everything into his Mac.
"When Paul and I say this, it horrifies the purists! " he giggles. "A lot of them have that mentality: 'I want an original Jupiter 8[ synthesizer] or I want a mini-Moog! SSSS
"OK, well you buy them on eBay and you try to carry them around!
"All of the sounds we utilise are actually software synthesizers and do you know what? Most people say they can tell the difference, but they actually can't."
One exception comes on the glittering, six-minute Ghost Star, which uses field recordings of birdsong to represent an affecting lyric about the mending power of love.
"Yeah, I found myself standing in Portmeirion and listening to the haunting sound of the curlews coming across the estuary, " says McCluskey. "The trouble was I didn't know what they were … and it took me several days of Googling birdsong until I discovered them.
"But those recordings weren't good enough, so I had to go out and get my own. Out there in my waders! "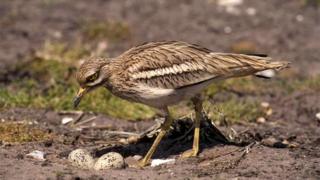 It's an approach most bands in their fourth decade would reject, but McCluskey and Humphreys are proper studio boffins, constantly excavating new sounds and tweaking existing ones in pursuit of the perfect song.
But in a neat reversal of their album's topics, technical wizardry always takes second place to melody and emotion.
"You can have a dozen great notions for an experiment, then you listen to them and go, 'Do I want to hear that again? No, I don't, '" explains McCluskey. "So it takes time to sort out the things that work out musically, as well as intellectually."
Accordingly, the album's most affecting track comes in its simplest song – What Have You Done, a bleak ballad surveying the rubbled ruinings of a relationship.
"Essentially, Paul went through a major change, a breakdown of relationships, " explains McCluskey of his musical partner – presumably referring to Humphreys' separation from Propaganda vocalist Claudia Brucken in 2013.
"A lot of things changed: moving out, you know, all of the disastrous fall out that comes from the end of a relationship.
"And the strange, sad, lone thread that was connecting everything was their dog. Some people might think it's instead trivial, but actually it was the final straw. That was the moment where he abruptly went, 'OK , now I'm looking at the big picture , now I'm looking at the final disconnect'.
"So it's about reflecting on how did we get to this sad, melancholy place – where something that was beautiful is no longer in existence."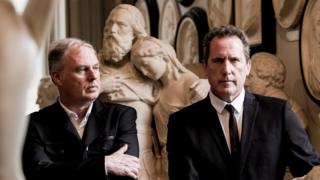 It's a sign of OMD's maturity that they can place such a delicate, desolate sung in the middle of an album about civilisation's existential crisis.
But they've always determined ways to connect the head and the heart. Even on Enola Gay, their biggest hit, they discuss the bombing of Hiroshima from the perspective of the pilot's mother, and how she feels about her son.
"The thing is, " says McCluskey, "it's quite hard to be emotive about an intellectual topic[ but] over the years, I have managed to find a way – largely by turning them into metaphor."
The album, he explains, "is a conversation we're having with ourselves and we want to have a relevant conversation.
"And if it's relevant to us, then we hope we're not deluded and it will resonate with other people as well."
The Punishment of Luxury is out now.

Follow us on Facebook, on Twitter @BBCNewsEnts, or on Instagram at bbcnewsents. If you have a narrative suggestion email entertainment.news @bbc. co.uk.